Happy New Year!
We're extending the sale!
Since the Model Railroader feature on Trainfest is appearing in the February 2013 issue (which is just shipping)
we've decided to give you more time to get this model at more than 10% off the SRP.
Place your orders now with your preferred dealer. Remember, we don't require any money down.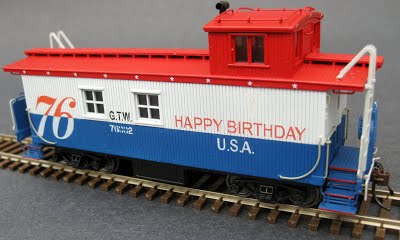 This ex-DW&P caboose was decorated in this snazzy bicentennial scheme as GTW #76002
We don't know if there was a #76001.
We don't know if any other GTW cabooses carried the same scheme.
We don't re-run the same road number in the same scheme so this is a one time opportunity.
SRP $44.99
Special: Order before January 31, 2013 and get it for $39.99
Available from your preferred Walthers dealer.