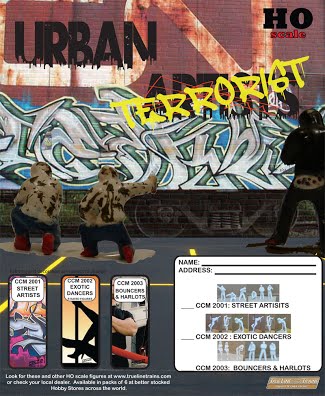 Back from the NMRA Convention at Grand Rapids. We had a great show and saw a lot of great people. 
Jim and Trevor over at the
Model Railway Show
talked to Otto Vondrak for a quick report. Otto 'dances' around Darren's new figures a bit, but for more information go
here
. Packaged in 6 packs they are known as 'The Dirty 1/2 Dozen.' We'll have a pack of street artists (taggers), harlots and bouncers, and one of exotic dancers.
We also showed off the latest test shots of the MP-36's and BX Express Trucks, the C-Liners appear to be highly anticipated, and received a lot of compliments on the new reefers.
But, as always, the best part of the show was the people. Darren and I had a great time chatting with all of the folks that came by.